Workshops


Upcoming:
Charlotte August 26th 2017
Previous Workshops and Demos:
Clay Arts Vegas, Las Vegas, NV April 2017
If you ever have a chance to go to
Clay Arts Vegas
, do it! They bring in fantastic artists for workshops and the students are wonderful. Thom and Peter are so great and a joy to work with, as well as the other members of what I will forever refer to as "my vegas family." This workshop was a 2 day class featuring throwing, slip trailing, painting, and more. The students did such a great job bringing their creativity and fun ideas.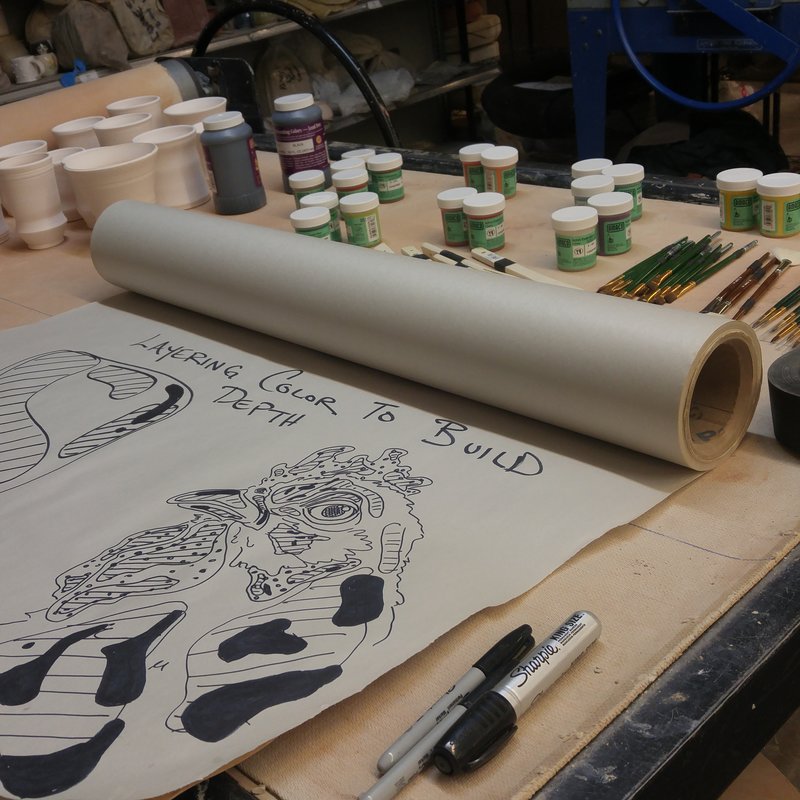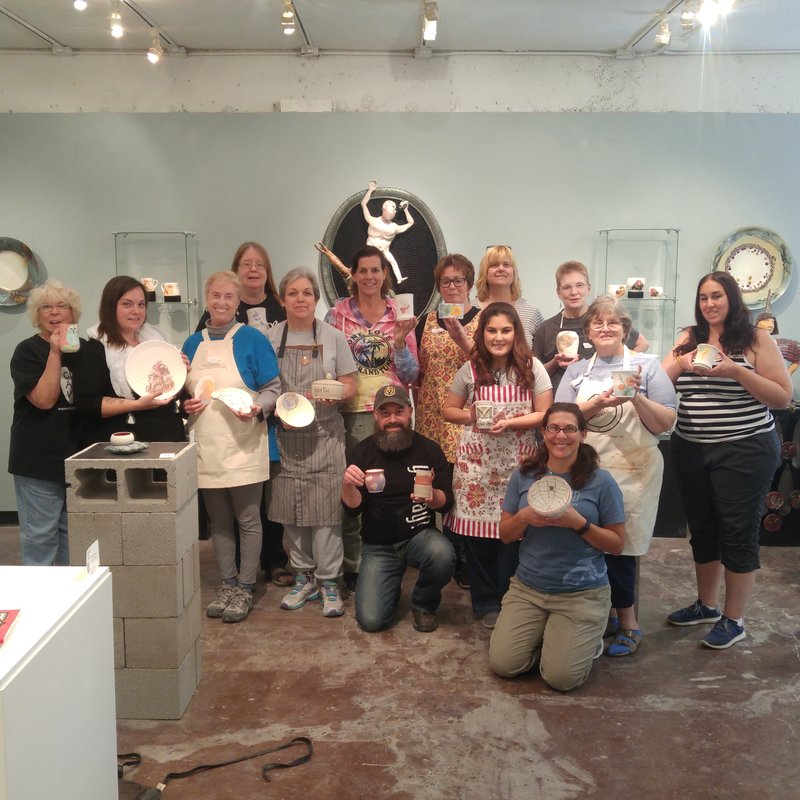 NCECA Portland, OR March 2017 - Amaco Demo
I gotta tell you, the people at
Amaco
are seriously the BEST. I had an amazing time and a huge growth in my work from my NCECA trip and my demo for Amaco was an experience I'll never forget. Big thanks to Stephen, Arielle, and Tracy for all of their help and inviting me to demo. I also had the awesome luck to get to demo 2 days along side Mark Errol and he. is. a. treasure. He has such a fantastic teacher. Check out his work and his gallery,
Plough Gallery
, in Georgia.
Demo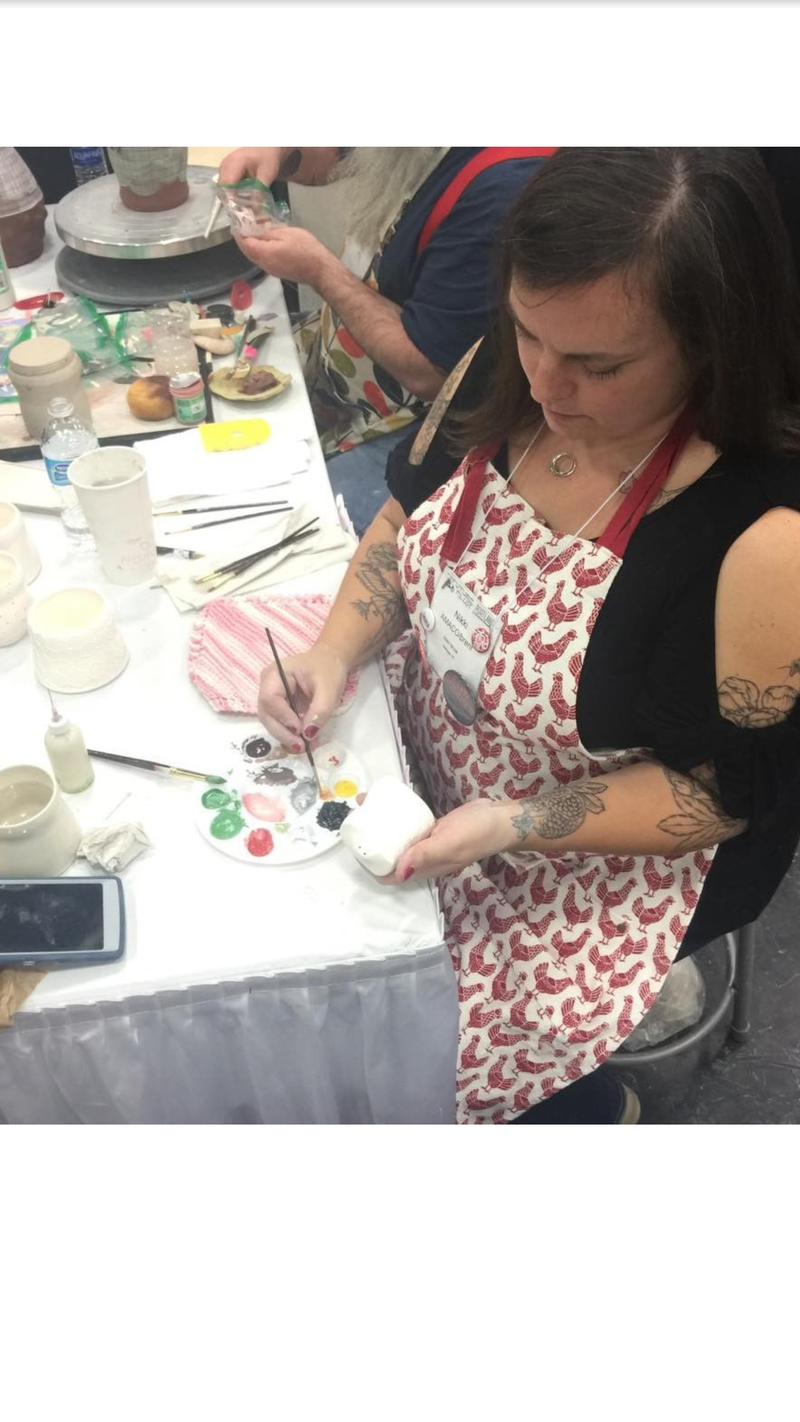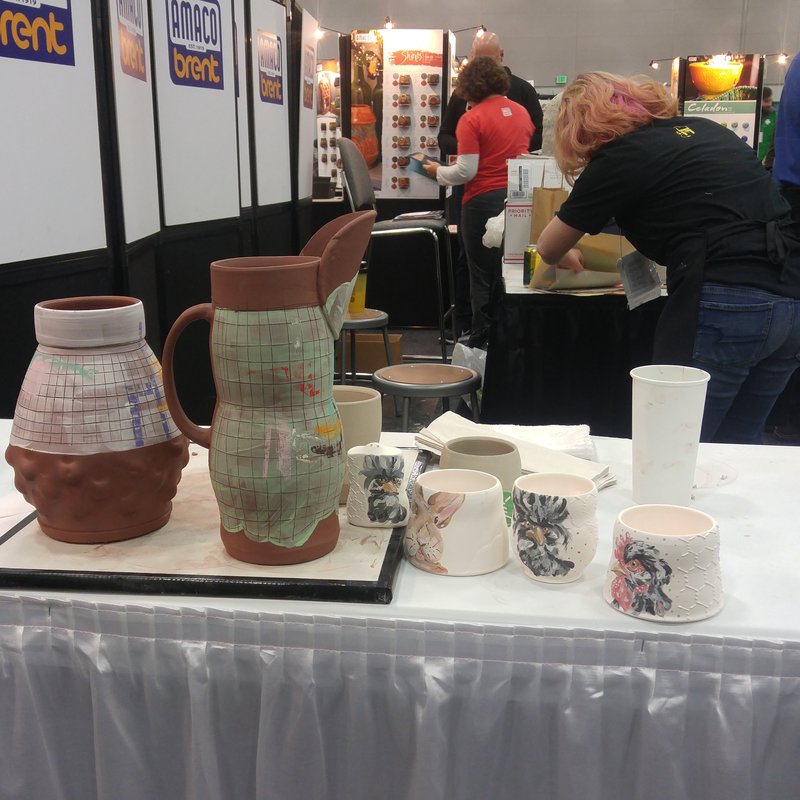 Mark Errol left, Nikki Mizak right
Art Alliance, Greensboro, NC June 2016








Shows
Menagerie
Baltimore Clay Works, juried by Jenny Mendes May 2016
I was so excited to find out I was accepted into a show back home in Maryland. The pieces on display in this show are so incredible, so many talented artists!
Dirty South Cup Show
River Oaks Square Arts Center, juried by Kristen Kieffer. May 2016
My first award in a show ever and I was so honored to win Best in Show! So thankful to a wonderful gallery for putting on such a great show. Can't wait to try for next year.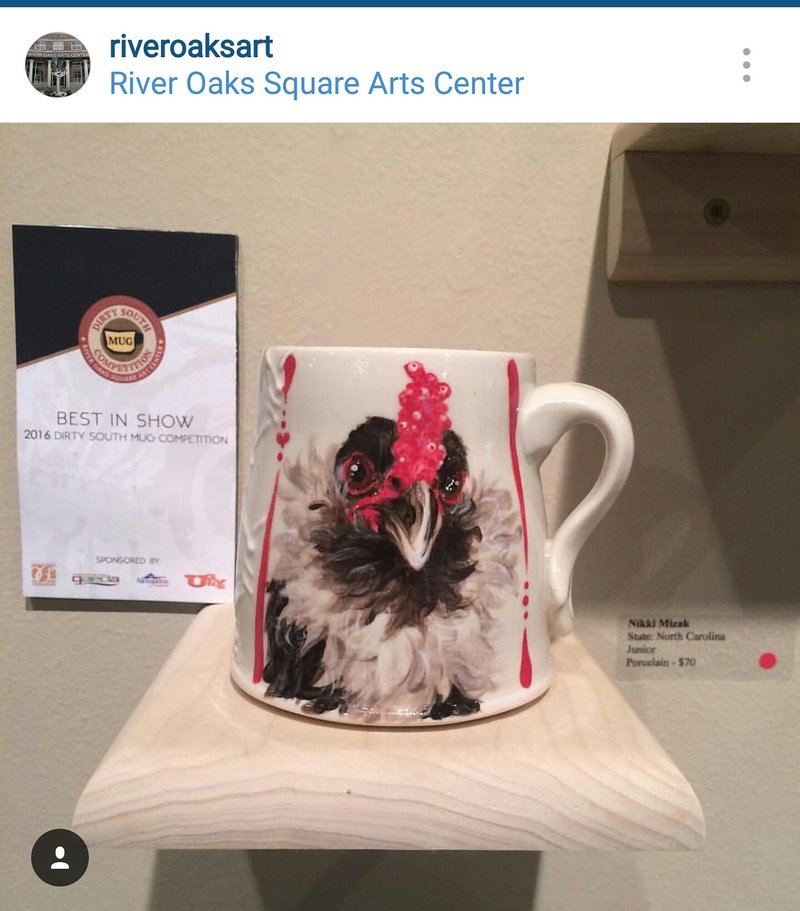 Cup: the Intimate Object XI presented by Charlie Cummings Gallery in Gainesville, Florida
Exhibition dates: 3-23 October 2015
A wonderful show that I look forward to viewing every year. This year I decided to submit cups and was so pleased to find out I was accepted into the show.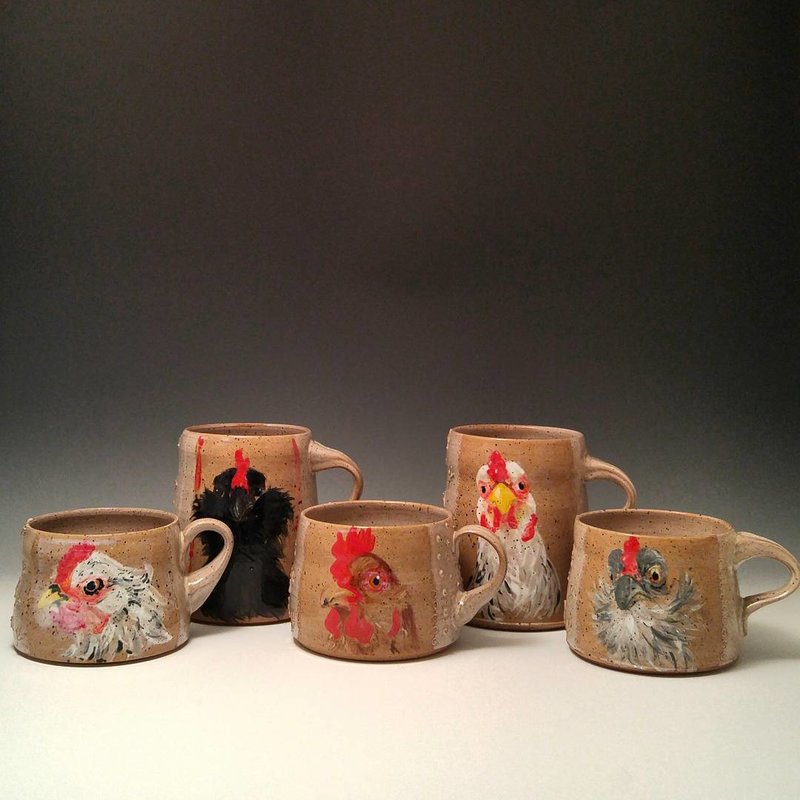 "Just Desserts" Presented by Phoenix Fired Art in Joplin, Missouri
Exhibition dates:
: August 7, 2015 through September 15, 2015
A show juried by another favorite potter of mine, Sunshine Cobb. I submitted this cake plate and I'm really excited that it was chosen to be in the show.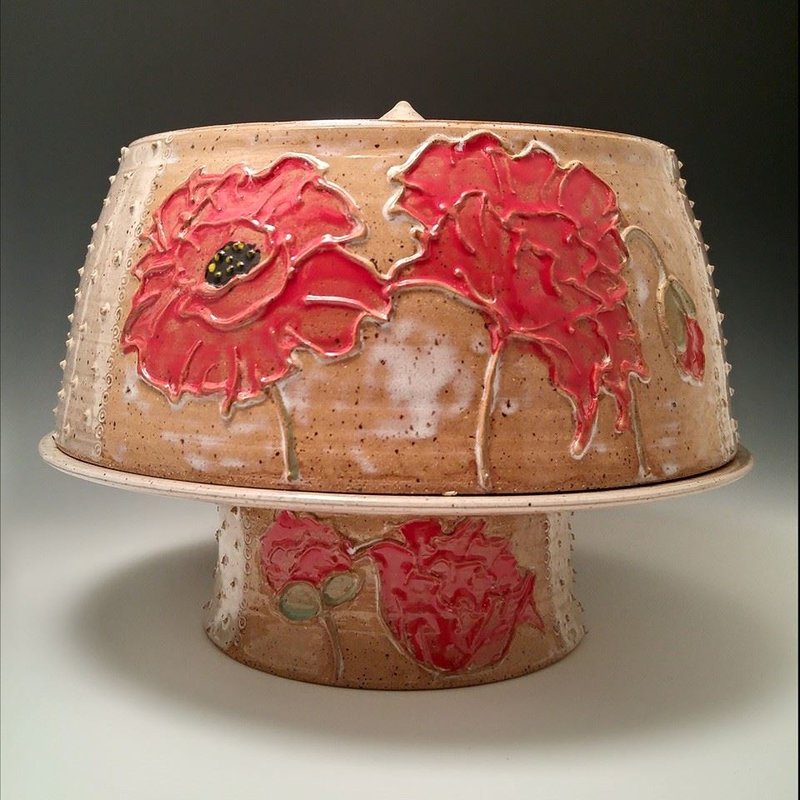 POUR: Function + Form presented by
Belger Crane Yard Studios in Kansas City, Missouri.
Exhibition dates: June 5 - August 15 2015
I'm so thrilled to be a part of this show. It was juried by one of my favorite potters, Linda Arbuckle, and she chose 2 of my pots to be exhibited.

This chicken teapot, "Chicken Love" is one of the pots heading to the show.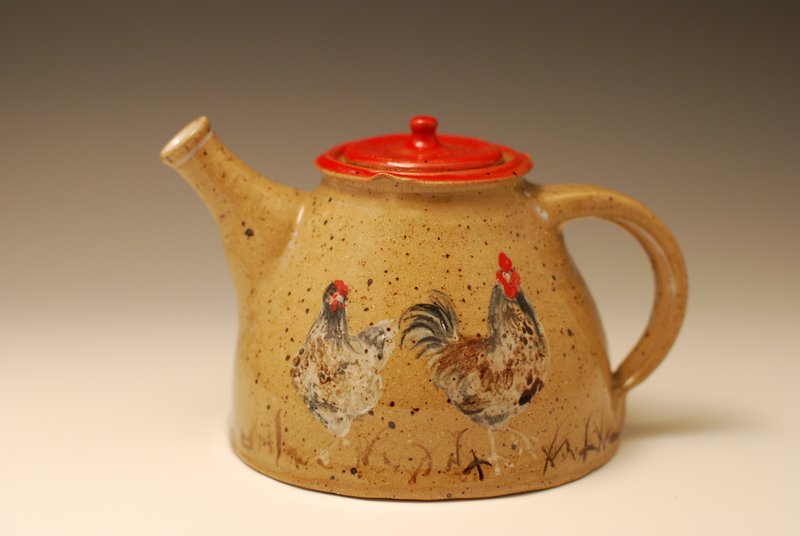 My other pot headed to the show is my blue and white juicer pitcher